STEVE VAI – INVIOLATE TOUR 2022
2 days after Vai's 62nd birthday, Two notes descended on the o2 Academy, Bristol (UK) to meet up with Dave Weiner (Steve's touring guitar player for the past 22 years). Our mission: to configure and set up a Captor X for the Inviolate tour. A veteran Captor X user, Dave filmed an epic first impressions live stream (video link below) way back in December 2020, and to this day continues to rely on its DSP-loaded prowess in his live and studio sessions alike. 
Dave is well known as an "analog man" through and through. Traditionally, he preferred mic's on his amps, but the Captor X may well have swayed him to the realm of the hybrid-digital dark side! The Captor X featured in Dave's solo spot on "Sandman Cloud Mist" on Steve's latest record, Inviolate; as such it was destined to be part of his rig for the Vai tour. 
The snag: he forgot to pack his unit with the rest of his touring rig! When they landed for the inaugural tour date, the Captor X was still sitting in his office some 3000 miles away. Dave's "I've done tours like this for years, it'll be fine" mantra was soon blown out of the water as Vai's long-time drummer, Jeremy Colson was bleeding into Dave's on-stage cab mic and subsequently his IEM's. The result: an unbearable monitor sound and extremely hard track to mix FOH.
Never shy of a challenge, the Two notes team arrived at the o2 with an hour to spare prior to soundcheck. Steve was in the midst of his "Evo Experience" meet so we couldn't check the FOH mix. Thankfully, the beauty of the Captor X meant we could pipe everything into Dave's IEM's, with his Friedman BE-100 roaring in true silent stage fashion. Jeremy very kindly beat the living daylights out of his kit a few times just before soundcheck started and Dave's monitoring sound was stunning – pure, clean and with zero overlap.
When sound check kicked off Dave was delighted. Armed with the Friedman Vint 412 DynIR, close miked with a 121 and a pulled-back off-center 57, the resultant tone was nothing short of immaculate. With FOH fully engaged, his tone was identical to his stage sonics when his cabinets were plugged in! We caught up with the monitor technician and the FOH engineer and they were both blown away with the tone – and ease of use – of the Captor X.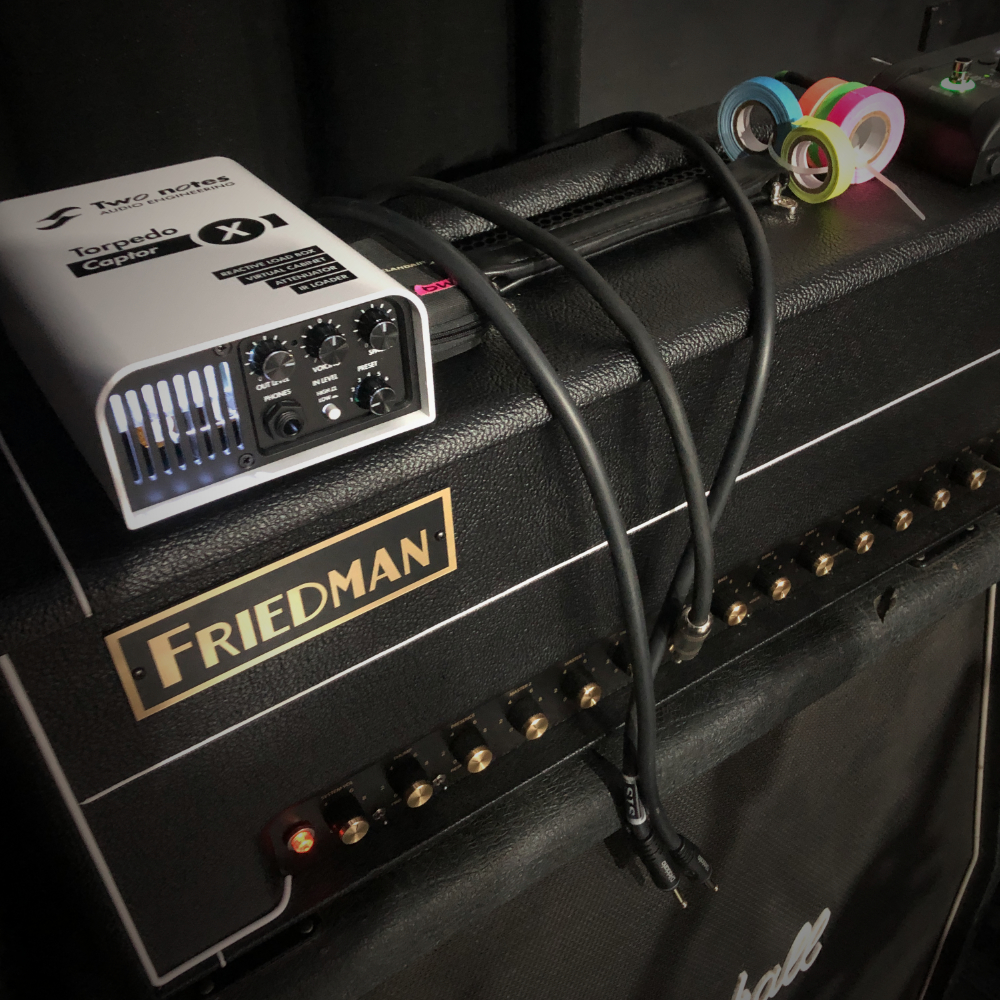 The Inviolate tour is an epic international milestone run; Captor X will be there at every gig, safeguarding Dave's amp and keeping his tone completely under control!
Dave landed the Vai gig at age 22 and has stayed in the touring band for well over 20 years; we have absolutely no illusions about his ability as a songwriter, musician and player, and we're elated the Captor X has yet again exceeded all expectations from such a legend in the world of contemporary guitar music. If you've not heard his own material, then this is the perfect time to check it out!