Torpedo Hardware
3 Channel Tube-Driven All-Analog Bass Amp Simulator / DI
Key Product Features
3 Channel Tube-Driven All-Analog Bass Amp Simulator / DI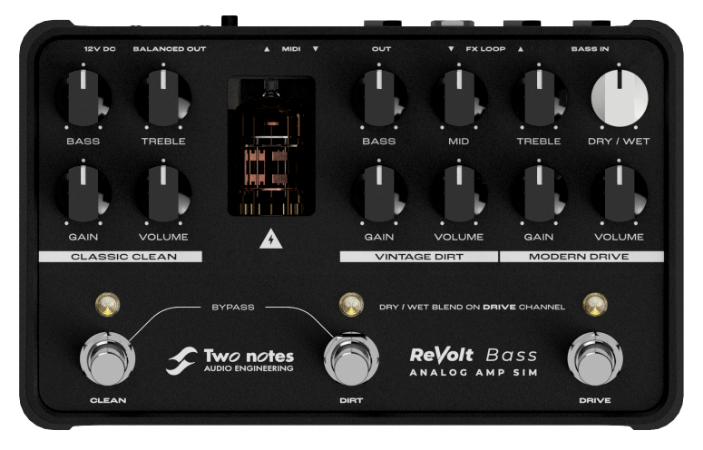 Preamp, Amp Sim, DI and So Much More!

3 channel bass amp simulator/DI featuring an all analog signal path; Inject some warmth and bite into your tone courtesy of a 12AX7 preamp tube running at high voltage

Integrated Drive Channel Dry/Wet Blend for enhanced tone-shaping; Expertly engineered Analog Cab Sim for seamless DI whether it's in the studio or on stage. 4-Cable mode, FX Loop and MIDI In/Out for effortless integration into existing setups.

Includes the ReVolt: Series-B DynIR Cabinet Collection (valued at 100€/$) featuring 10 exquisite DynIR captures inspired by leading bass amplifier brands.

Mojo Maker
It's a fact: DI is convenient. It's reliable. It's a pure unadulterated tone that's surgically controlled to the smallest iota. There's just one snag; It lacks the all-important warmth synonymous with tube amps. ReVolt's 12AX7 preamp tube running at 200V has been expertly tuned to enrich your tone with undeniable tube mojo. The result is revolutionary. You retain all the convenience of a DI signal, now with the warmth, the bite, the all-important response you demand.
More Info

The Perfect Blend

When you need best-of-both-worlds - the rounded thump of your dry DI signal with the snarl of surgically tuned distortion - ReVolt Bass' Modern Drive channel is the answer. Dial in your wet/dry blend and enter a world of saturated Analog bliss without sacrificing the pin-point precision you need.

Dial it in 

The right EQ is paramount when shaping pristine bass tones. That's why ReVolt Bass is outfitted with a two-band EQ on channel 1, and a shared 3-band EQ on channels 2 and 3. It's everything you demand from an EQ: musically harmonic in all the right places, and deftly tuned for precision. So, whether you're in the market for dub-ready subbyness, or simply looking to dial in some mid-range bite, shaping your signature sound couldn't be simpler. 

Drop the Mic

A great space, pro-grade mics and an expansive recording gear arsenal are all vital ingredients in the recipe for stand-out tone. The problem? They're never a sure-fire guarantee. ReVolt Bass's analog cabinet simulation inspired by Ampeg® SVT-810E bass cabinet, gives you one less headache in the quest for reliable sonics. Switch on the cab sim, hookup to a mixer, PA or FRFR cabinet and you're set for virtually any recording or performance scenario.

Hookup Flexibility 

We get it, you demand the utmost versatility in the all-important connectivity department. ReVolt Bass delivers whatever the setup scenario. First, go direct - it's simple and sounds phenomenal. For total integration, switch on the 4-Cable mode and add 3 pristine channels to your amp head. Finally, get the most from a Hybrid setup and hook-up ReVolt to your amps FX return; you get the best out of its poweramp stage fused with the natural colour of your cab. For the Pedal fanatics, ReVolt Bass's FX return and stellar font-loading capability, offer versatile options when it comes to getting the very best from your pedal collection.

Made to Move 

Compact enough to fit center-stage on your pedalboard, and housed in a super durable all-metal housing, ReVolt Bass is made to move wherever your performance takes you. 

Recording? Think GENOME

Discover GENOME, the carrier class software ecosystem for hybrid- and plugin-based rigs, engineered to elevate any amplifier's tone to never before ventured heights. At its core: next-generation DynIR cabinet emulation for on-demand access to 500+ virtual guitar & bass cabinets, studio-grade microphones and pristine recording environments. For total command of the post-amp signal chain, GENOME's surgically-tuned Studio Effects and player-centric workflow empower you with the pinnacle in next-generation pro-grade tools. Available in plugin- and standalone-formats, and offering cross-platform compatibility courtesy of a handy IR Export feature, GENOME is primed and ready to deliver consistent, reliable tone from the studio to the stage.

ReVolt: Series-B DynIR Cabinet Collection 

Kick-start your journey into the unrestricted world of DynIR virtual cabinets with an exclusive 10-cab pack valued at 100€/$ with any purchase of ReVolt Bass. Harnessing power equivalent to 160,000 studio-grade IR files, each Two notes DynIR can be shaped to the needs of even the most discerning tone chaser. With 8 mics per cabinet, dual mic-ing and 10K mic positions (front & back), unleashing your tone and finding your signature sound has never been simpler.

Brothers From Another Mother 

Seeking the ultimate fly rig? Combine ReVolt Bass and the CAB M+ and discover a world of next-generation virtual cabinet emulation fused with sublime analog warmth.Together they offer virtually unlimited tonal possibilities, all packed in a made-to-move, pedalboard friendly format.
Included DynIR Cabinets and Effects

Revolt Bass comes with a lifetime licence of Torpedo Wall of Sound, complete with an incredible selection of 10 DynIR cabinets. With a wide range of included effects, you can mix your tracks recorded with ReVolt to studio standards.

Included Virtual Cabinets (10 Via Wall of Sound)

WGrandBlvd: Inspired by an Ampeg® 1×15

Fridge 9: Inspired by an Ampeg® 9×10

Heaven Top: Inspired by a David Eden® 4×10

AZBen: Inspired by an SWR® 1×18

AluXL: Inspired by an Hartke® 4×10

Marco: Inspired by a Markbass® 2×10

CalifLow: Inspired by a MESA/Boogie® 2×10

Dual BW15: Inspired by a Peavey® 2×15

2NotesCSB: Inspired by a Custom 1×15

Voice V125: Inspired by a Vox® 1×12

Cabinet Miking (Via Wall of Sound)

DYNAMIC IR SPECIFICATIONS :

Virtual Cabinets come with captures from 8 studio and live microphones (Dynamic, Condenser, Ribbon)

Dynamic IRs are phase-corrected, preventing any phase issue

Blend two microphones together

Have direct access to 400+ Virtual Cabinets via the DynIR Cabinet Collection

MICROPHONE POSITIONING :

Distance : from close miking to room tone, seamless

Axis : from cone center to speaker shell, seamless

Front and back of the cabinet

Effects (Via Wall of Sound)

POWER AMP EMULATOR 

Four classic tube types : EL84, EL34, 6L6, KT88

Two circuit types : Class A (Single Ended) and Class A/B (Push-Pull)

Two tube modes : Pentode and Triode

Volume, Contour and Depth knobs

5-BAND EQUALISER

Sculpts the tone coming out of the Virtual Cabinet

Five customisable semi-parametric bands going from -20dB to +20dB (and a low-cut filter)

EXCITER

Dynamics and frequency shaping tool to beef up your tone

Low and High knobs for low-end and high-end emphasis

REVERB

8 legacy Room Ambience algorithms (Studio A & B, Loft, Cathedral, Basement, Hall A & B, Crypt)

COMPRESSOR

Based on high-end studio rack compressors
Input/Output
Jack 6.35 mm (1/4") unbalanced (TS, Tip/Sleeve) / Impedance : 1 MOhms

Jack 6.35mm(1/4") unbalanced (TS) / Max output level : +11dBu / Impedance : 300 Ohms

Jack 6.35mm(1/4") unbalanced (TS) / Max input level : +11dBu / Impedance : 1 MOhms / Unbuffered, directly connected to Output when active

Jack 6.35 mm (1/4") unbalanced (TS) / Max output level : +11 dBu / Impedance : 300 Ohms

XLR, balanced / Impedance : 600 Ohms balanced, 300 Ohms unbalanced / Max output level : +11dBu / Protected against +48V phantom power

Jack 3.5 mm (1/8") stereo (TRS, Tip/Ring/Sleeve)Impedance : 39 Ohms

Jack 3.5 mm (1/8") stereo (TRS, Tip/Ring/Sleeve) / Impedance : 10 kOhms

Dimensions & weight
19.2cm x 11.7cm x 7.2cm – 7.6″ x 4.6″ x 2.8″ (Including connectors and knobs)

750 g / 1.65 lbs

Power
DC Jack 2.1mm, negative center

12V DC

Approx. 6W

600mA
Gallery