This just in! German tone masters, Hughes and Kettner®, have just released their inaugural DynIRmeister collection on the Two notes store. Now, guitarists of all walks can experience the pinnacle in Deutschland-originated engineering and next-level tone bending knowhow, with 8 in-demand cabinets available exclusively in Two notes' proprietary DynIR format. 
For users seeking no-compromise articulation, fused with merciless tone and unfettered response, the Hughes & Kettner® DynIRmeister DynIR virtual cabinet collection is a must-have. Tuned for the modern metal and hard-rock player – yet, versatile in terms of their application across a myriad of genres – this release is nothing short of jaw dropping.
About Hughes & Kettner®
If you think Hughes & Kettner you immediately think true innovation exemplified in an iconic line of amplifiers and cabs that ooze the utmost quality. Engineered in Germany, these amps are the product of a lifelong passion and pursuit of a vision – to empower even the most discerning player with studio- and stage-ready tone. Their continuing mission is rooted in delivering the entire package: High-quality tone, effortless setup, and engineering-excellence that exceeds the expectations and demands of the modern guitar player.
Introducing the "Hughes & Kettner® DynIRmeister Collection"
Power. Precision. Vintage Rarities. Unique Additions to the Ever Growing DynIR Catalogue. Hughes & Kettner® really pushed the boat out with their inaugural DynIR release. 
Whether it's a legendary bestselling 1×12", a vintage-inspired harmonically-rich 4×12", or a super-rare 2×12" prototype dug up from the archives, this collection is force to be reckoned with. There's even some "not-your-ordinary" speakers in here too, courtesy of the proprietary Deutschland-born RockDriver series! Metal players, prepare yourself for the ultimate in tight low-end and uncompromising articulation. Rock heads, get those feet on the monitors, it's about to get powerful! Bluesmen, there's enough vibey mojo to backup even the most audacious solo face. Guitarists of all walks, it's time to break-the-norm and level up your sonics! Oktoberfest has truly come early. Cabinets in this collection include:
Hughes & Kettner® CC 412 SE Vint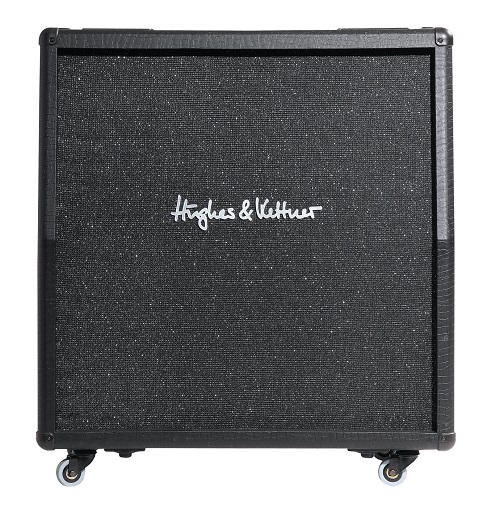 The CC 412 SE was developed as a special version of the CC412 A30 Cabinet for the Alex Lifeson TriAmp and Tommy Thayer Duotone Signature models. Outfitted in highest-quality faux croc leather, this Cabinet sports UK-made Celestion® Vintage 30 speakers and delivers lashings of rich mids for creamy rock tones.
Hughes & Kettner® MC 412 SE Lead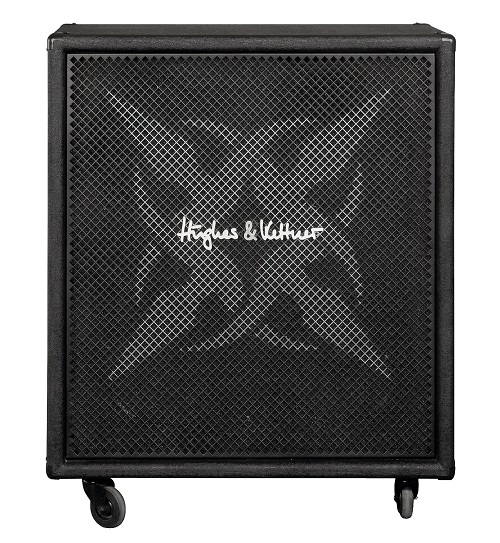 The MC 412 SE was designed in collaboration with Jeff Waters for the Hughes & Kettner® Coreblade. The result? A straight cabinet in an XL sized enclosure tuned to deliver thunderous thump and punchy low-end. Equipped with Celestion® Classic Lead 80 speakers developed in the late '70s (complete with a fibreglass voice coil and an 80W power rating), the MC 412 SE boasts forsuperior dynamic response, tight low-end and strong low-mid-range punch. If you're seeking defined and aggressive mid-range attack fused with a powerful – yet controlled – top-end that's perfect for the modern metal enthusiast, the MC 412 SE Lead delivers on all counts!
Hughes & Kettner® TM 212 Vint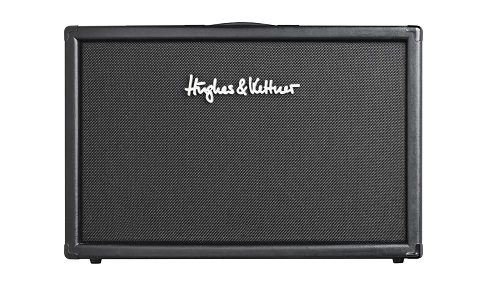 Regarded as a true workhorse for the gigging player, this best-selling, uber-versatile cabinet features dual 12" Celestion® Vintage 30 speakers in a vented, dove-tailed birch ply housing. The result is a harmonically-rich, sweet tone, fused with exceptionally balanced dispersion. For players seeking the ultimate in tonal versatility, primed for everything from clean to mean, TM 212 Vint is a sure-fire hit!
Hughes & Kettner® TS 112 Pro

 

Cream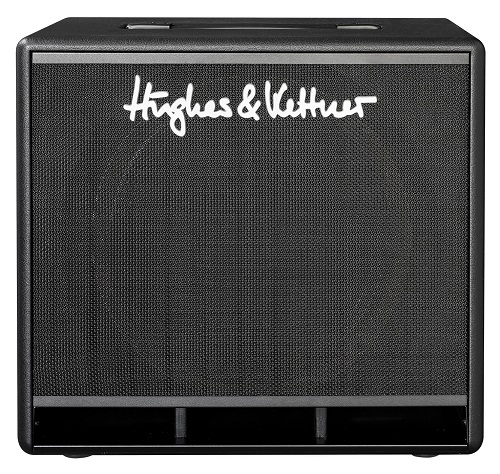 The TS 112 Pro is the cabinet of choice for players seeking an incredibly full sounding 1×12" solution. Featuring a UK-made Celestion® G12H-75 Creamback speaker, it's the ideal choice for the high-power amp player. Harnessing the Thiele/Small development approach, the TS 112 Pro achieves maximum low frequency performance via expertly balanced cabinet- and vented port-dimensions. The result is a speaker that unleashes its full sonic potential to deliver maximum output!
Hughes & Kettner® TriAmp Combo 212 Cream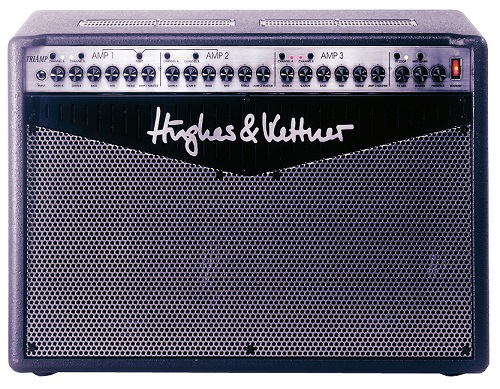 The original TriAmp Combo was engineered to deliver the widest tonal range in its class. Unlike most combos that time, the cabinet was not wrapped in Tolex; its paint finish didn't dampen high frequencies, resulting in a sparkling tone for pristine cleans and cutting lead tones. The combo used in this DynIR capture was the original prototype made in 1995, outfitted with dual UK-made Celestion®  G12H-100 drivers in a large half open back cabinet construction. These G12H-100 speakers were based on the legendary G12T-75, but featured a larger magnet for a tighter bottom-end and more presence in the midrange.
Hughes & Kettner®

 

TC 412 A60

 

RockDriver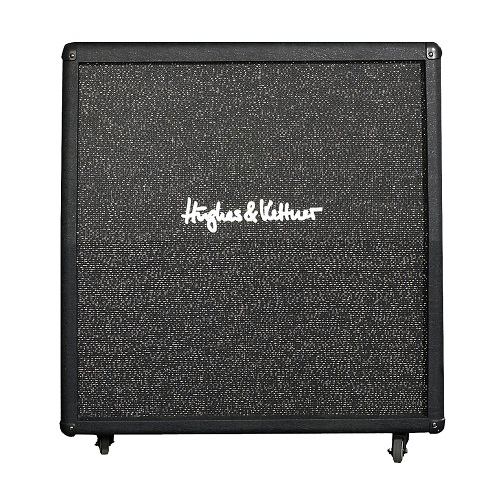 The TC 412 A60 was engineered to communicate the musical energy of all 6 channels of the TriAmp Mark 3; this demanded a driver that would hold up to any musical genre, with high power handling and wide well balanced tonal range. The result was the legendary, custom-made Hughes & Kettner® RockDriver Classic 60. Tight low end? Yes! Punchy   A pronounced top end? Yes Sir! In a nutshell, it's the ideal pairing for the slightly-oversized heavyweight birch ply enclosure of the TC 412 A60, perfect for everything from classic clean to 8-string mean.
Hughes & Kettner®

 

SC 412

 

RockDriver Ultra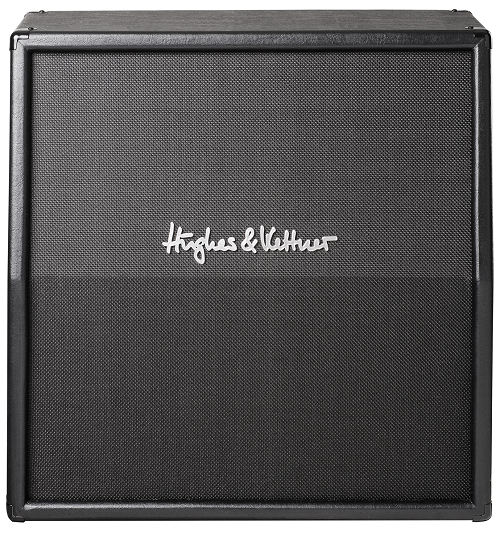 The SC 412 was the highly-revered predecessor of the legendary ATTAX cabinet, sharing the same 8 ohms RockDriver Ultra speaker – an advanced version of the earlier RockDriver, that brought out the very best of the solid state ATTAX amps. The sonic result is palpable: unashamed aggressive tone by the boat-load that guarantees to cut through any mix, whether it's in the rehearsal room or on stage!
Hughes & Kettner®

 

VC 412 A25 Green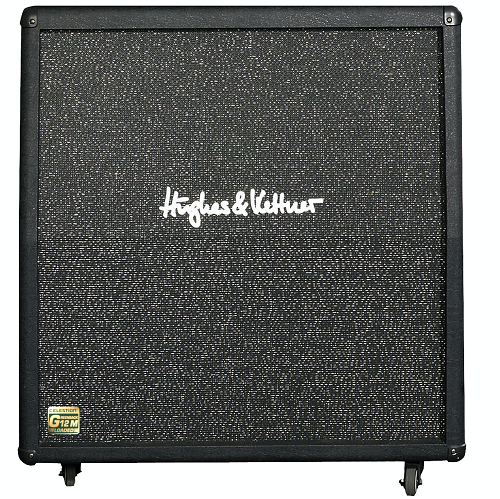 Part of Hughes & Kettner®'s Vintage Cabinet series, this unique 4×12 was equipped with tried-and-tested 25-watt Celestion® G12M Greenback drivers. If you're in the market for defined chords and searing leads – without fizz – the VC 412 A25 Green delivers on all counts. It's 110% pure rock tone. This cab is widely regarded as the perfect match to the legendary Trilogy and Switchblade amplifiers, delivering quintessential tone synonymous with the early hard rock era.
All 8 cabinets have been captured with a selection of industry standard microphones including the Shure® SM57, Shure® SM7B, Sennheiser® MD421, Beyerdynamic®  M160, Beyerdynamic® M201, Beyerdynamic® M700, Beyerdynamic® M88 and the Audio Technica® 4050 through a Neuman® v476b preamp into a RME® Fireface 800 interface

'Here at Two notes Audio Engineering, we love Hughes & Kettner® cabs. They're punchy. There's bag-loads of defined articulation. And, lest we forget: they're powerful enough to leave even the toughest high-gain enthusiast shaken to the core. In Two notes' early years, we captured the GREEN TRI DynIR from a from a Hughes & Kettner® TriAmp Combo Guitar cabinet, and it's a hugely-popular cabinet in our collection. Moreover, when it comes to the number of times this pillar in the amplifier market has been requested by our army of users, we've lost count. We know the DynIR format is unmatched in terms of tone-sculpting ability; as such, it's only fitting that Hughes & Kettner® – with their heritage of engineering- and tonal-excellence – join the ranks of official brand captures within the Two note's ecosystem.' – Guillaume Pille – Two notes CEO 
'The DynIRmeister Collection empowers you with the pinnacle in Hughes & Kettner's guitar cabinet legacy – primed and ready to rock from the get-go! More than 30 years of development, research and german-engineering has finally been condensed into this collection of 8 premium DynIRs, made in conjunction with our friends and partners at Two-notes Audio. From the exciting 1×12″ TS112 Pro, to the 4×12″ "big block" MC412, one things for certain: you can experience every milestone Hughes & Kettner's guitar cabinet, not-to-mention some vintage rarities courtesy of the 1995 2×12" TriAmp MK1 Combo-Cabinet.

In the era of the home-recording explosion, and the sheer ease of getting your music out there to the world on social media, it's pivotal to have the right tools for the job. The Hughes & Kettner Collection delivers the goods, empowering you with the ultimate toolkit to record HUGE guitar sounds. True to our motto: "Rock on stage – Play at home – Record at night", the new Hughes & Kettner DynIRs offer premium guitar cabinet recording sounds, ready to enrich any recording scenario as only Hughes & Kettner can!' – Uwe Sicks, Hughes & Kettner 
The all-new Hughes & Kettner® DynIRmeister Collection Pack of DynIR virtual cabinets are compatible with all DynIR-enabled Torpedo hardware (including Captor X, C.A.B. M+ and digital legacy products), 3rd party Torpedo embedded devices and the Torpedo Wall of Sound v4 audio plug-in (Mac/PC).
The Hughes & Kettner® DynIRmeister Collection retails at $59 USD / 59€ and is available from the Two notes store exclusively!