Torpedo Hardware
Compact Reactive Load Box (16 Ohm), Attenuator, DynIR Cab Sim, IR Loader & Stereo Expander
Key Product Features
Compact Reactive Load Box (16 Ohm), Attenuator, DynIR Cab Sim, IR Loader & Stereo Expander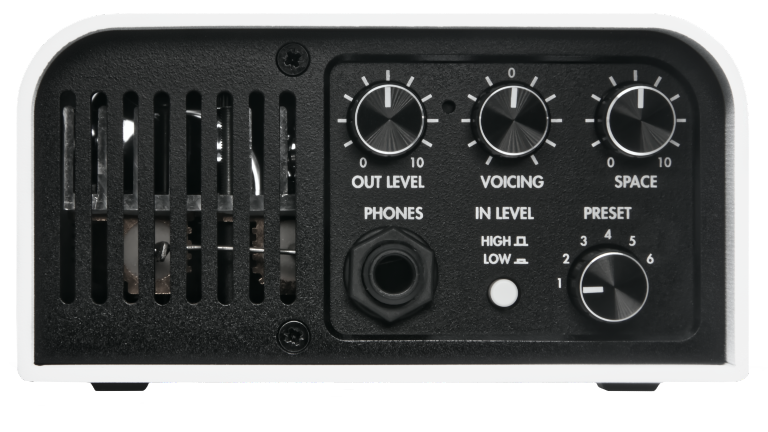 A premium, compact reactive load box and more

Play your amp at its sweet and control your volume with the attenuator. The digital load box also allows you to enjoy your 10-watt rig in silence via headphones. Just plug and play.

Fed up with lifting heavy cabinets, inconsistent sound, and stage volume issues? Go direct to the PA or audio interface with DynIR, the acclaimed cab sim technology from Two Notes.

Effortlessly control the miking chain

Pair Torpedo Captor X with your phone, tablet, or computer. Change the cabinet, microphones, room, EQ, reverb, or edit any parameter using Torpedo Remote.
No other compact reactive load box offers such universal control of the miking chair and with dual miking per cabinet, you may never use a real mic again.
Included DynIR Cabinets & Effects

Torpedo Captor X is preloaded with a comprehensive selection of 32 DynIR cabinets for guitar and bass.

Register your Torpedo Captor X (via Torpedo USB Remote) hardware to claim 3 free DynIR cabinets on your licence.

Guitar Cabinets

Angl Pro30 : Inspired by Engl® 4×12" Celestion® Vintage 30

Angl VintC : Inspired by Engl® 4×12"

BDeLuxe : Inspired by Fender® Blues Deluxe

Brit 65O : Inspired by Marshall® 1965A 4×10" Celestion® G10L-35 open back

Brit VintC : Inspired by Marshall® Slash Signature 4×12" Celestion® V30 closed back

Calif StdC : Inspired by Mesa/Boogie® Rectifier® Standard 4×12" Celestion® V30 closed back

Eddie : Inspired by Peavey® 5150 2×12" Sheffield 1200

Eggbeater : Inspired by Egnater® Egnater® Tourmaster 2X12

Fastback25 : Inspired by 4×12 cabinet Celestion® Pre-Rola G12M Greenback

Forest : Inspired by Elmwood® cabinet

Free Rock2 : Inspired by VHT® Deliverance 2×12" Eminence® P50E

GreenArtC : Inspired by Marshall® 4×12 cabinet for JMP amplifier

Green Tri : Inspired by Hughes&Kettner® Triamp 4×12" Celestion® Greenback

Jazz 120 : Inspired by Vintage Roland® JC120 2×12"

JubilGreen : Inspired by Marshall® 2550 2×12" Celestion® Greenback

Kerozen : Inspired by Diezel® 4×12" Celestion® G12K-100

RackHeroJP : Inspired by Custom Audio Amplifier 2×12 cabinet Celestion® Vintage 30

Rand NB412 : Inspired by Randall® Signature Series 4×12 cabinet Celestion® Greenback

SilverJen : Inspired by Vintage Fender® Twin Reverb® 2×12" Jensen® C12K

StrongBack : Inspired by VHT® Fat Bottom series cabinet P50E speaker

Tanger 30C : Inspired by Orange® 1×12 cabinet with Celestion® Vintage 30 speaker

The One : Inspired by Brunetti® Neo1512 1×15" & 1×12"

Vibro V30 : Inspired by Vintage 1961 Fender® Vibrolux® 1×12" Celestion® V30

Voice 30 : Inspired by Original Vox® AC30 JMI 2×12" Celestion® "Silver Bell"

Watt FanC : Inspired by Hiwatt® 2×12" Fane closed back

XTCab : Inspired by Bogner® 4×12" Celestion® V30

Additional DynIR cabinets upon hardware registration (via Torpedo USB Remote)

Calif C90 : Inspired by Mesa® 1×12″ with Celestion® C90

Rand RD112 : Inspired by Randall® 1×12″  with Celestion® Vintage 30

Romanum2 : Inspired by Cicognani2 Imperium® 2×12" with JENSEN® speaker

Bass Cabinets

Alu XL : Inspired by Hartke® XL 4×10"

Bull Neo2 : Inspired by 2×10″ cabinet

Fridge9 : Inspired by Ampeg® 8×10"

Heaven Top : Inspired by David Eden® 4×10"

Marco : Inspired by Markbass® 2×10"

New York : Inspired by Markbass® 4×6"
Included Effects

ENHANCER

Frequency and dynamic shaping

Thickness and Brilliance for low-end and high-end emphasis

Body for shaping the mid-range

Guitar and bass modes

TWIN TRACKER

Automatic double tracker (left output: you  / right output: virtual guitarist)

Dynamically changes the attack and timing of the 'ghost' player

Balance controls the separation of the twin guitarists in the stereo field

Tightness controls how close the 'ghost' matches your playing

REVERB (12)

Studio A, Studio B, Loft, Cathedral, Basement, Hall A, Hall B, Crypt, Spring, Plate, Tile and Echo

Space knob controls the width of the stereo field

EQ

Post virtual cabinet EQ

3 modes: Guitar (5-band), Bass (5-band), Custom 

Custom mode: 5-band semi-parametric (-20dB to +20dB range) plus adjustable low shelf

VOICING

Fast global tone control

Dial left to emphasize the mid-frequencies

Dial right to cut the mids for a more scooped tone

NOISE GATE

Removes unwanted floor noise

Noise level "learn" function

Hard / Soft mode

IR LOADER

Easily switch from DynIR to static IR loader mode

Store hundreds of static IRs on the included memory card

Option to blend two standard .wav IRs

IR lengths up to 200ms

Adjustable performance mode, ultra-low latency of 2.2ms

TUNER

Access via hardware or Torpedo Remote

Customisable "A" frequency from 410Hz to 490Hz

Cabinet Miking 

DynIR SPECIFICATIONS :

Every DynIR Virtual Cabinet is captured with 8 carefully selected microphones inc. dynamic, condenser and ribbon industry-standard mics.

DynIRs automatically phase correct as the virtual mics are moved

Blend two microphones (per cabinet) together

Have direct access to 400+ Virtual Cabinets via the DynIR Cabinet Collection

MICROPHONE POSITIONING x 2 :

Front and back of cabinet

Distance : from close miking to room tone

Axis : from cone center to speakers edge
Frequently Asked Questions

Can I mismatch the impedance of the Torpedo Captor X and my amp / speaker?

It is generally accepted that a small mismatch is not a problem if you play the amp at a low level, but this isn't a general rule.

WARNING Before mismatching impedances – please read this article.

Can I use an amp more powerful than the rated power of the Torpedo Captor X?

The published ratings of amplifiers do not follow a uniform pattern. For example, some tube amps (mostly vintage or from vintage inspiration), can output more power than advertised. 

If your amplifier outputs more than 100W RMS, discover how to protect your amp when using a Torpedo Captor with this detailed article.

What is a load-box / attenuator?

A load-box/attenuator provides a dummy load to run a tube amp at a reduced level or silently (in place of a speaker cabinet).

To discover more about load-boxes and attenuators and what they do, and more importantly how they protect your amp, find out more in this article.

Torpedo Remote? What's it for?

Torpedo remote is a software application designed to make controlling your Torpedo device as easy as possible, to find out how to get started with Torpedo Remote.

For more information about how to use Torpedo Remote with your Captor X, please read this article.

Why should I register my Captor X?

When first opening Captor X via Torpedo Remote, You are asked if you would like to register the product with Two notes. When the Captor X is registered to your account, you are given 3 extra cabinets for free! The Calif C90, Rand RD112 and the Romanum2.

Is it standalone? Do I need a computer?

You can use the Torpedo Captor X standalone, but some of the editing (including charging cabinets within the library) will require USB connection to Torpedo Remote. Most of the finer tweaking can be performed via the Torpedo Wireless Remote app via a phone/tablet.

Can I use it with a preamp?

The Captor X requires a high level of input to operate such as the output of a power amp. Without a high level of input, you could damage the device.

Can I connect it to an FRFR speaker?

From the XLR outputs only. The Captor X speaker out has been designed for regular guitar/bass cabinet use.

Can I use the outputs simultaneously? (headphones, XLR and speaker outputs)

All outputs work simultaneously and independently. For example, you can play your amp and use the attenuator (through the speaker output), while sending the full torpedo processed signal of your amp to your DAW (through the XLR outputs).
Input/Output
1/4″ jack unbalanced (TS)

1/4″ jack unbalanced (TS)

1/4″ jack balanced (TRS)

XLR Balanced - Maximum output level: 15 dBu / Impedance: 600 Ohms

1/8″ jack balanced TRS - Jack to MIDI cable adapter supplied

USB 2.0 Micro-B / USB Micro-B to USB A cable supplied

Load box
100W RMS

8Ohm or 16Ohm depending on version

-38 dB, -20 dB, 0dB

Digital Audio
Studio-grade 24-bit / 96 kHz

30 Hz – 19 kHz

> 95 dB

32-bit floating-point

2.2 ms (Speaker Input to Left/Right Outputs)

Dimensions & weight
12.8cm x 17.5cm x 6.4cm – 5″ x 6.7″ x 2.5″ (ncluding connectors and knobs)

1300 g / 2.9 lbs

Power
DC connector, 2.1mm x 5.5mm, center negative

100-240v AC to 12v DC 2A
Gallery